Kadence Block Templates – list of free and premium design libraries
When looking for new layouts for our site, we don't always want to change the entire theme. Kadence Blocks provides the capability to incorporate pre-designed layouts, enhancing the aesthetics of your pages. These layouts not only offer a straightforward means to integrate visually appealing content into your pages but are also highly customizable to cater to your specific requirements.
Kadence has provided a library of ready-made templates (Starter Templates) where you can find dozens of ready-to-use templates. If, despite an intensive search, you still haven't found the perfect template, I've prepared for you a list of ready-made design libraries from third-party creators. With Kadence Cloud, anyone can host their own library and share it. I also belong to this group myself 🙂
Rocksite Kit – free
This is my free library, which I make available as a plug-in on wordpress.org and as a support project file for designers in the Figma community.
The plugin includes dozens of wireframe sections that you can easily customize for your site. After installing the plugin in the Design Library, you will find new section categories such as Hero Sections, Services, Features, Call to Action, Metrics, testimonials and many more
Download plugin from WordPress.org
Start Blogging Blocks – free and premium – Jake Pfohl
Library of more than 300 free and premium wireframe blocks and block templates designed for affiliate bloggers that can transform your website into an efficient sales generator without compromising on performance.
Blogging Blocks are entirely centered on driving conversions, resulting in boosted affiliate sales, product sales, and elevated CTR (Click-Through Rate) for your webpages and blog posts. Each blog post you create becomes a valuable asset that continuously grows your affiliate commissions over time.
Link: https://startbloggingblocks.com/
B&B Blocks – free and premium – https://brandandbuild.me/
A powerful database of predefined sections with extensive visual documentation. You can try the blocks for free or buy access in the form of a monthly or annual subscription.
All the blocks are organized into categories. Users can filter them by block type, compatibility with their Kadence subscription level, or enter a keyword for a more refined search. The stock images in the screenshots are left intact to provide users with a sense of how the block will appear alongside their content. However, once imported, a convenient placeholder with sizing information is available, allowing users to easily replace it with their own images.
The author, Michelle Nunan makes sure that a new package of blocks appears every month.Whether one is a Kadence free, pro, or full bundle subscriber, new blocks are added to their library each month, and each block is meticulously designed to ensure it looks exceptional on all devices.
The emphasis is on quality rather than quantity, with a focus on offering blocks styled in ways that go beyond the capabilities of the built-in block settings.
Link: https://brandandbuild.me/product/bb-blocks/
Iconic Templates – free and premium – Maestro Stevens
Wireframe blocks focused on building marketing content and sales funnels. The directory includes free and premium blocks. It has extensive visual documentation so you can easily find the section you are looking for.
Link: https://iconictemplates.com/
Authority Blocks – premium – Jeremy Koering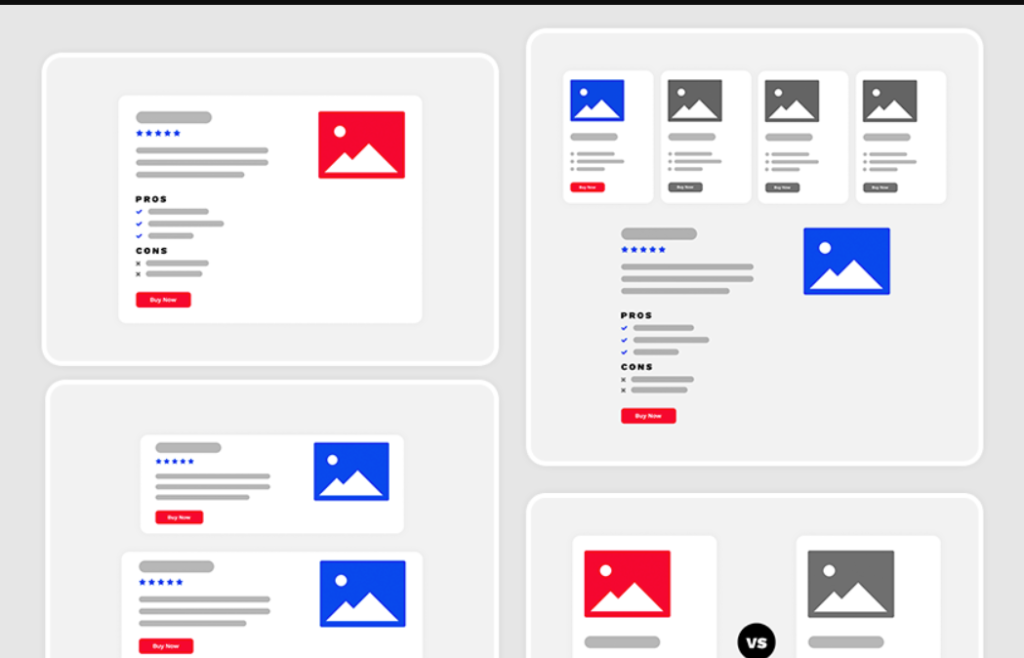 This is a collection of wireframe blocks – the prepared structure you will have to adapt to the appearance of your site. Dedicated for blogger who promotes affiliate products. With over 40 blocks and templates in Version 1.0, it includes options for creating roundup listicles, product reviews, product comparisons, and much more. On the site you will find extensive documentation of the blocks with live demos.