Canvi allows you Build your layouts easily with Design Library with predefined sections
Kadence Design Library provides a revolutionary resource for creators, developers, and designers alike, offering an extensive range of design patterns that can be seamlessly incorporated into any project. By harnessing the potential of these patterns, users can streamline their creative process, optimize workflow, and elevate the overall quality and consistency of their work.
Regardless of whether you are using the free or premium version, elements from the Kadence Design Library can be implemented on any WordPress post or page on sites with the latest version of Kadence Blocks installed. While the free library offers an array of design elements, Kadence Blocks Pro users can enjoy access to twice the number of design patterns. When browsing the design library, users can easily differentiate between free and premium design elements.
You can find "Design Library" buttont at the top left of the editor next to the list view icon.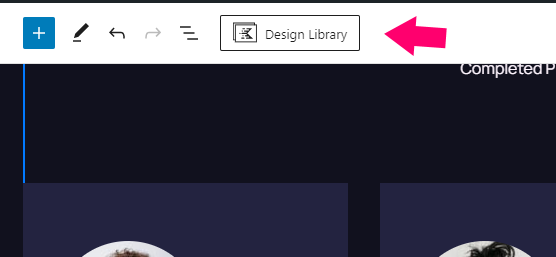 After clicking on the button, the first tab you will see is "Canvi Sections"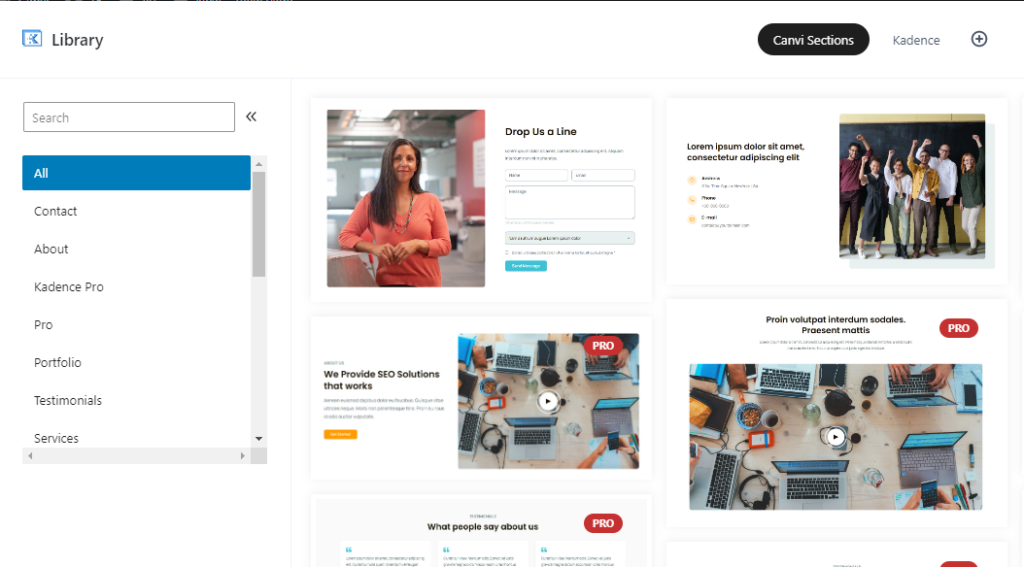 You can seamlessly incorporate these design elements into any post or page just as you would any other regular block. After adding the section, you can customize it to match the styling of your website. Feel free to replace the existing images with more relevant content and add or remove blocks to achieve the desired effect for each section.
Whenever you feel stuck or lack inspiration, browsing through the Canvi Sections tab can be a great solution. You might find fresh ideas on how to present your information more engagingly or come across imagery and data that you hadn't considered incorporating. Allow the sections to spark your creativity.
To save time looking for a particular type of section, use the category selector located at the top left of the modal or the search function at the top right.
It's also essential to periodically resync your library by clicking on the arrows icon in the top right corner next to the close option. While the library automatically resyncs every time there's a Kadence update, it's always a good practice to do it yourself occasionally.
You can also use additional options provided by Kadence Blocks: Starter Packs and Wireframes